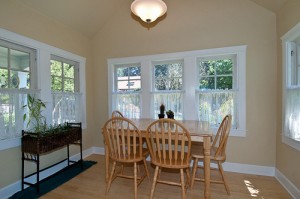 Remember learning about log cabins in your elementary history classes and seeing pictures in your textbooks of how cool they looked? You can bring some of this unique décor to your own home today by purchasing some log furniture. There are a number of places in your home that can be outfitted with this kind of furniture. But if you want your guests to really see it, consider adding some log furniture to your dining room.
According to TheLogFurnitureStore.com, the following pieces of log furniture are the most popular for a dining room in a home:
Dining table – Dining room tables are manufactured in a variety of styles and with various types of wood. These include cedar, pine, and hickory. Red cedar is a form of wood often used in the manufacturing of log dining tables. Cedar logs are very durable and will provide a beautiful makeup of any piece of furniture. Pine logs are similar as well.
Dining chairs – Chairs for log dining tables are created in a way that provokes both comfort and that neat rustic feel of nature and the outdoors. In order to go along with a table, the table's chairs are typically manufactured using the same type of wood. This means a dining table made of pine logs would include chairs made of pine logs as well. Chairs come in various shapes and sizes, and some include a soft material on the inner-back and seat of the chair for added comfort.
Hutch – If you want something to use for storage or just a piece of furniture to complement the rustic look and feel of your dining room, consider investing in a log hutch. A hutch can be used to store tablecloths, silverware, or anything else that might be found in a kitchen or dining room. It can also be a beautiful addition to a room, even if it isn't used for much at all. Hutches come in a variety of styles and may include a deep inside for added storage space, drawers, doors for small cabinet spaces, and more.
Dinnerware/flatware – Believe it or not, there are many types of rustic dinnerware and flatware that are made out of wood from logs. This includes cups, bowls, and plates along with utensils like forks, knives, and spoons made with hickory. Enjoying a delicious meal on a log dining table can't get much better when you are using log dinnerware.
Bookmark LogFurniture.com to find all the info you need before purchasing a piece of log furniture to complement your home, office, or any other building you may want to outfit with some rustic furniture.