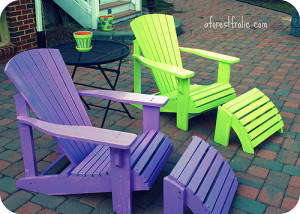 Every room of your home has a different feel to it. The reason for this is that every room looks a little different and is stocked with different furniture and décor. If you've thought about changing things up by furnishing your entire home with unique items made from wood, there is a book that is perfect for you.
Published in October 2012, The Handbuilt Home: 34 Simple Stylish and Budget-Friendly Woodworking Projects for Every Room by Ana White is a comprehensive handbook of 34 unique projects that you can make by hand using wood and other basic items to construct them.
With step-by-step tips on how to make these items by yourself, you'll be amazed at how unique you can really make your home look. The book describes how to make a variety of furniture pieces. They include wood beds, dressers, Adirondack chairs, small play tables for the kids, end tables, storage units, simple home accessories and so much more. The book specifies how each of the 34 items can be made by utilizing basic types of wood available in your local hardware store. It then describes which tools are needed to work with the wood. In each example, only a saw, a drill, and other simple tools are necessary to make these items. The text is also written in a very basic format for beginners who have no experience whatsoever in woodworking or furniture building. Additionally, the book lists costs and estimates of how much time each step of the individual projects will take, making the experience understandable and more enjoyable for all. Once you finish making one ore more of these items, you'll enjoy the rustic feel that it brings to your home.
Author Ana White is a popular online blogger who has helped to inspire millions of readers with her writing style that encourages individuals to try something new by making things themselves. White has openly documented how she has saved thousands of dollars by getting stylistic ideas from stores and then making her own creations on a small budget. She is a young mother and demonstrates how people with limited finances can still make the most of them. White hails from Alaska and got into making furnishings for her home when she designed and later built her own residence. You can learn more about her and get inspired yourself at www.ana-white.com.
For additional resources on how to make furniture using logs and wood, be sure to check out LogFurniture.com.