An armchair or recliner can be one of the most comfortable pieces of furniture. Just sit back, put your feet up, watch TV, or take a nap in your armchair. In terms of log furniture, rustic armchairs are popular items that provoke a sense of the outdoors in your living room.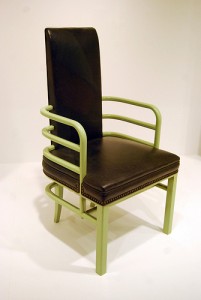 If you've ever thought about making your own rustic armchair, here are some tips on how to do so. These tips come from the book Great American Rustics
To start the process, pick out four slightly curved logs that will serve as legs. They each should measure roughly 3'' in diameter. The front pair of legs should be about 2' high. The back pair should be about 2'9'' inches in height. The front seat rail should measure roughly 1'2'' long by about 2.5'' in diameter. The back  seat rail should be about 1' in length. The side rails should be about 1'3'' long. The ends of these rails should be appropriately trimmed and measured in order to properly fit the legs. They should also be fixed with inserted ash or elm dowels that measure about 2/5'' in diameter.
The height from the ground line to the seat top should measure about 1'4.5'' in height. The battens that form the seat should rest on the side rails, and cleats should be fixed to the inner sides of each of the four legs. This will help to support the extreme and front battens.
The arms and back of the chair are made into three parts. The scarfed joints should be fitted so that they come immediately over the back legs. The treatise work is then added. Finally, the struts and dentils are fixed around the seat. The chair can be made from under-barked wood without any kind of dressing. The other option is that the bark can be removed and the wood, when it is dry, can be finished and stained with an outside varnish.
Use LogFurniture.com as your premier online resource for information about making log and rustic furniture along with recommendations on where to buy it and reviews of companies that manufacture and sell these items.