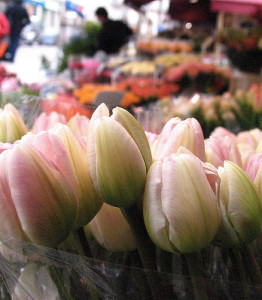 Flowers add a lot of flair to a room. Flower stands come in all shapes, styles, and sizes. In fact, there are several ways you can make a rustic flower stand that will go well in a log cabin or a home in which rustic furniture is prominent. Here is a basic method of making a rustic flower stand courtesy of the rustic furniture book Great American Rustics:
The flower stand in this how-to example should be hexagonal in shape, meaning it is six-sided. The sides should be fixed to a base supported upon tripod legs. It will stand about 3'3'' in height. Elm boards are suitable for making the sides of the stand and the bottom of it. They should be 1'3'' in height by 9'' in width at the top end. At the bottom end, they should be 6.5'' high by 1'' thick.
Put the edges of the boards at a level of roughly 60 degrees and fix them with nails to make them sturdy. When all six sides are completed, prepare the hexagonal stand baseboard to be used as part of the next step. Put holes in it for drainage purposes, and make sure that these holes are equidistant so that they are 1.25'' in diameter at an angle of roughly 60 degrees for the tenons of the legs to go in. Next, you should screw the base to the sides of the stand and ensure it is all fixed together properly.
The twigs for this fixing process should be seasoned so that they are at least a year old prior to using them. In addition, the twigs should be sawn in halves. Straight twigs should be used as well. If it is necessary, shoot the edges slightly so as to create a closer fit when fixing them so that they are parallel. Attach the lower border to the hexagonal base of the stand. Then, the upright pieces should go over the angles, which are hollow. Finally, fix the top-sloping pieces and then the horizontal twigs. The legs should be nailed at the stand's base and at the center where they cross each other. They should be further secured with twigs that will essentially act as rungs.
By following these steps, you should find yourself with a beautiful, handmade rustic flower stand!
Increase your knowledge about log and rustic furniture as well as various methods you can use to create your own amazing rustic creations by using LogFurniture.com. This website is a tremendous informational resource on log furniture whether you're looking to buy it from a local company or simply want to learn a new hobby by making your own furniture pieces.