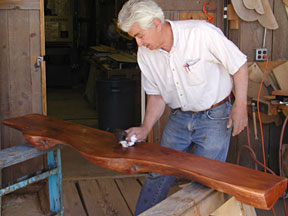 Woodlife Pine Lumber Sales is a company that supplies rustic mantels and other types of log furniture that are made from reclaimed and recycled wood. Based in Prescott, Arizona, the company has been in business for over 28 years and currently has three primary contractors who work for Joe Agosta, the owner of the company. To learn more about Woodlife Pine Lumber Sales, visit www.woodlifepine.com.
Q&A WITH JOE AGOSTA:
What kinds of items does your company manufacture and/or sell?
We have a niche market and we do a lot of work on log cabins. We also make handrails, furniture – almost any kind of furniture – mantels, and doors. We don't make cabinets.
How much do your pieces of furniture cost?
We don't have a lot of set prices, but in general, we charge $65 an hour plus the cost of materials.
What are the most popular kinds of items you make?
Doors, moldings, and fireplace mantels are the most popular. We also get a lot of work on log cabins.
Briefly describe how you make an item.
We size an item, cut it, and then use methods like mortise and tenon to put the piece of furniture together. It's a pretty labor-intensive process.
What specific kinds of wood does your company use to make log furniture?
We use just about anything except exotic wood. We use domestic hardwoods and pines, mesquite, and juniper. We pick up some wood ourselves, but we have different suppliers we get it form.
How did you get into this business?
I did some construction work when I was younger. My father was an industrial arts teacher. I've always been building things.
What's the craziest custom request you've had for furniture?
We get oddball requests all the time. Someone asked for long, thin, 28-foot poles. A lot of it is unrealistic stuff that we just can't physically make.
What kinds of log furniture do you enjoy making most?
I like making just about anything out of wood.