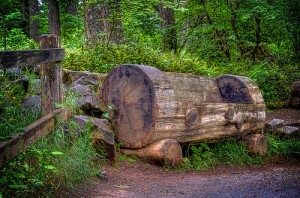 Have you ever thought about building your own log chair or other types of rustic furniture? There is an extremely informative book you might want to check out for step-by-step instructions on how to do this. This article takes a closer look at the book titled How to Build Your Own Bentwood Chair: A Guide to Building and Selling Rustic Furniture by Wallace Eadie.
Published by Universe.com Publishing on May 10, 2011, this 84-page book offers an introduction to the process of manually handcrafting log and rustic furniture. If you want to give it the old college try as a hobby, the book offers information on how to do that. If you've considered getting into the business and want assistance on how to do this as a full-time gig, there is info on that in the book as well.
The book discusses easy and cheap ways to collect materials and tools that are necessary to set up a home workshop. The main focus of the building process centers on how to build a bentwood log chair. However, there are plenty of tips on ways to construct other types of furniture for both indoor and outdoor use. These other items include love seats, plant stands, benches, beds, and garden furniture. The images and graphics in the book make each process easy to follow no matter how much experience you have. There are also two chapters in the book entirely devoted to informing readers about how to make money selling log furniture and the most effective methods necessary to market yourself and your items. If you want to do this on the side or make a full-time job out of it, this book will give you the information and encouragement to put yourself on a self-employed track to success in this unique business.
Wallace Eadie, the author of the book, previously worked for several years as a Probation Officer in Revelstoke, British Columbia, Canada. He started making rustic furniture as a hobby on the side, but his interest in it grew and it later led to a full-time career for him. He now has over 16 years of log furniture making experience, and he also teaches classes on it to beginners wanting to learn the processes involved. Many of his creations are now on display in hotels, ski resorts, and private homes all across western Canada.
Books are a terrific source of information, especially when it comes to how to build your own log furniture essentially from scratch. This book is no exception. But there are also lots of online resources to help you even more when searching for information on log and rustic furniture. Be sure to use LogFurniture.com as a one-stop shop for info on everything related to furniture and accessories made from natural logs and wood materials.