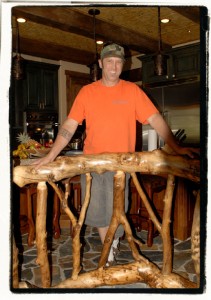 Wood In Art is a log furniture company based out of Thousand Oaks, California. It is owned and operated by Mark Davidson and was originally established in 2000 under a different name before becoming Wood In Art in 2011. To find out more about the company, visit www.woodinart.com.
Q&A WITH MARK DAVIDSON:
What kinds of log furniture does your company manufacture and/or sell?
We do everything from business card holders to custom log items. Most of our work is custom-ordered. We make bedroom furniture, dining room furniture, living room furniture, picnic furniture – just about everything under the sun.
How much do your pieces of furniture cost?
I consider myself to be more of an artist than a furniture builder. Because of this, our prices are anywhere from $30 for a small item up to several thousands of dollars. A king-size bed frame is about $1,200-$1,500. For what it is, the prices are very comparable to other companies.
What are the most popular kinds of log furniture?
Log benches, bed frames, dining tables, and dressers
Briefly describe how you make a piece of log furniture.
We first discuss with the client client to see if they want it artistic or more generic.. We look for specific logs for their desires. We cut the wood, start building, and create the finished product. We primarily used the mortise and tenon method. We finish the items with different oils. A king-size bed takes about a week and a half or two weeks to make.
What specific kinds of wood does your company use to make log furniture?
Aspen logs, walnut, pine, and other hardwoods are pretty common for us. Aspen is really unique looking and makes great log railings and chairs.
How did you get into making log furniture?
I'm an artist by nature but a musician first. I just started working for myself and got a chainsaw and started making stuff. I worked as a lift mechanic for years but had another calling.
What's the craziest custom request you've had for furniture?
One guy wanted a two-piece chair that was copied from a design from Africa. I've also made some pretty creative log railings.
What kinds of log furniture do you enjoy making most?
I like making thrones – large chairs. These are my showstopper pieces. People are blown away when they see them. Also, recently I have been using cowhide and for some of the furniture and want to use that more in the future.