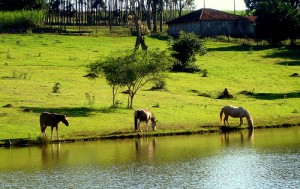 Ranch life is like nothing else. Living in a rural environment away from the everyday noise and stresses of city life can be an extremely relaxing way to enjoy life. Even if you rent a log cabin on a ranch for a few weeks or months, it will be one of the best getaways you will ever experience.
According to a recent story on FoxNews.com, the following list consists of some of the best "wild west" ranches in the United States:
THE ALISAL GUEST RANCH & RESORT
Solvang, California
This ranch offers 10,000 acres of grazing fields, canyons, and hills.
It's a working cattle ranch that goes all the way back to the 1800s. It currently houses about 100 horses and was once the home of former Kentucky Derby winner Flying Ebony. Horseback riding lessons, golf, tennis, and bass fishing are among the many fun activities available here. The resorts contain lots of rustic and log furniture items for your enjoyment.
SOUTHERN CROSS GUEST RANCH
Madison, Georgia
This equestrian ranch offers a "wild west" feel despite the fact that it's in the southeastern U.S. It is home to more than 150 horses, many of which guests can ride. With lots of open pastures and wooded trails, the ranch offers a comfortable and rustic spot for vacationers looking to just sit back and enjoy nature. It's only about an hour outside of Atlanta.
RED HORSE MOUNTAIN RANCH
Harrison, Lake Coeur d'Alene, Idaho
This 300,000-acre ranch is located in the beautiful state of Idaho. Guests can enjoy riding through trails and exploring the western wilderness with plenty of elk to keep you company. The accommodations here include log cabins and fancy suites for western lovers. They are furnished with rustic log furniture, covered porches, and outside decks. If you aren't into riding horses, you can fish, play archery, or have some fun riding a zip line.
BRASADA RANCH
Powell, Butte, Oregon
Located in the high desert of central Oregon, this quaint 1,800-acre retreat offers Juniper trees, private lakes, a tricky golf course, and plenty of sunshine throughout the year. The lodge and cabins here are casual yet elegant and include rustic furniture to make the experience as western as possible. From horseback riding to fly-fishing, there is an activity for everyone to enjoy. If you just want to sit around a campfire at night and enjoy the stars, you can do that, too. Oregon is one of the most picturesque states in the country, and a trip to this ranch will capture many of those images for you.