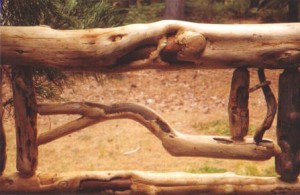 Tahoe Log Works is a log furniture company based in South Lake Tahoe, California that combines art with wood to make unique furniture. The company is owned by Peter Truszewski with help from his wife Monique. It has been in business for over 20 years. For more information on Tahoe Log Works, visit www.tahoelogworks.com.
Q&A WITH PETER TRUSZEWSKI, OWNER/BUILDER
What kinds of log furniture does your company manufacture and/or sell?
We sell one-of-a-kind pieces designed for specific spaces in our customers' homes.
How much do your pieces of furniture cost?
In general, they cost more than furniture made on production lines. But they are less than gallery prices.
What are the most popular kinds of log furniture?
Benches
Briefly describe how you make a piece of log furniture.
We try to design a piece like a functional sculpture. We then compliment the material we use in the process of making it.
What specific kinds of wood does your company use to make log furniture?
We use lodgepole pine, Jeffrey pine, cedar, and juniper wood.
How did you get into making log furniture?
I was trying to make money and decided to invent a unique look for ordinary objects.
What's the craziest custom request you've had for furniture?
Someone wanted a 40-foot tall of a Tahoe Relief totem pole from dead-standing Jeffrey old post pine on the Lake Tahoe shore.
What kinds of log furniture do you enjoy making most?
I like making ones that don't look like any others that have been made before.
Is there anything else you would like to share about your company?
I'm a sculptor who started making furniture and log accents, staircases, banisters, and occasionally wildlife carvings. I'm always trying to combine the best look with function.