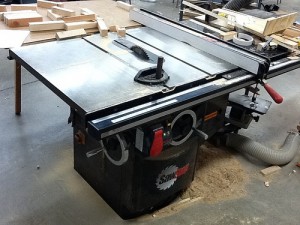 Have you ever thought about wanting to teach yourself how to work with wood and make your own nifty creations? If so, there is a book you should definitely check out.
Woodworking Basics: Mastering the Essentials of Craftsmanship is a fantastic book that will teach you all about woodworking and the tools you need to master the craftsmanship of beautiful, unique items. Written by Peter Korn, this 208-page paperback was published by Taunton Press and released to the pubic on October 1, 2003.
This book is based on a two-week course on the fundamentals of woodworking that is frequently offered at the Center for Furniture Craftsmanship in Camden, Maine. The text takes a very simplistic and easy-to-understand approach to the concepts of learning the basic skills is needed to crafting furniture and other home décor items from wood. The book goes through a variety of relevant subjects that include working with tools, cutting dovetails, and two fully explained projects on how to build a bench and a set of small cabinets. Benches are one of the most popular types of rustic wood and log furniture. They offer a unique place to rest and enjoy some friendly conversation with guests or family and friends.  Cabinets can be used to store all kinds of things, and if you make them small enough, they can be placed in almost any room in your home or log cabin. That is why both of these items are discussed in-depth in this book.
One of the appealing things about the book is that it talks about which tools are really necessary for woodworking and which tools you can really do without. Some of the tools suggested include used hand planes, chisels, Ryobas, and waterstones. These tools are much cheaper than those like jointers, planers, routers, and table saws. Because of this, the book will help you save money on the items you'll have to invest in. But in the end, you should get a greater return on your investment by using inexpensive tools that work just as well.
Author Peter Korn has written several books on the subject of woodworking. Some of his other titles are Working with Wood: The Basics of Craftsmanship (1993) and The Woodworker's Guide to Hand Tools (1998). They are all similar in how they are written so that anyone can pick them up and understand them. Plus they are all reasonably priced so that you won't be breaking your budget when wanting to learn a new craft for a hobby or a potential full-time job as a woodworker.
Be sure to use LogFurniture.com as your premier resource for information on log furniture and woodworking as well as which books and resources to look at like the one discussed here.