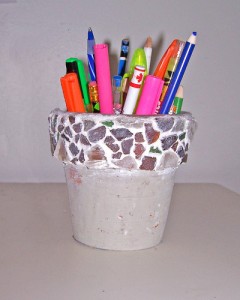 Log furniture goes well with all kinds of different accessory items that are commonly found throughout a home or log cabin. These are some of the most popular types of items available in rustic, western, and uniquely artistic styles:
Ornamental vases – You can outfit your home with one or more beautiful ornamental vases. A vase is the perfect addition to an entryway or a living room where visitors can see it. Purchase a pre-designed vase or make your own. Artistic design is a major part of creating a vase, and by adding natural images like trees or wildlife to it, a vase can fit in perfectly with rustic furniture like log sofas, tables, and chairs.
Picture frames – How cool would it be to surround a family picture with a rustic picture frame? Doing so adds a lot of character to the picture and the wall on which it hangs. Rustic picture frames can be made with wood or small twigs, and there are plenty of custom designs you can implement to make the frame really stand out. A rustic picture frame is perfect for pictures of nature or perhaps a family picture taken outside a forest, on a farm, or on a ranch.
Pen/pencil holders – Store all of your writing tools in a western-looking pen or pencil holder. These holders, some of which are made of wood or twigs, can make a desk in an office light up, especially if you have a log desk and chair to go along with them. These holders serve as cups in which they hold lots of items or contain individual holes for each writing tool you use. Bring a little rustic history back by using a quill pen with the holder!
Napkin/tissue holders – Store your napkins and tissues in a rustic holder. Imagine sitting down at your rustic dining table and sitting in your rustic chair. Then you look at the center of the table and see one of these holders containing the material you need to keep yourself clean and enjoy a nice meal with family and friends.
Mouse pads – You may not think a computer mouse pad has anything to do with log furniture, but think again. Rustic mouse pads offer a natural feel. When using a piece of modern technology like a PC, you can enjoy some old-fashioned western designs by using a mouse pad with a variety of layouts. Whether you want a pad with images of a deer, elk, or horse on it, you can find it. If you're thinking of something more environmental like trees or a river, mouse pads are available with almost any design imaginable. Using a rustic mouse pad on a log desk is a great combination as well.
For more information on log furniture and other rustic accessories to add to your furnishings, use LogFurniture.com as your premier resource for details on this topic.