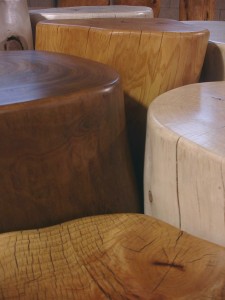 Kate Cunningham Company is a log furniture company that does business in California, Tennessee, and New Jersey. It has been around for over 10 years. Named after the company's principal owner, it primarily specializes in making tree stump tables from reclaimed and felled wood. Click over to www.katecunninghamcompany.com for more details.
Q&A WITH KATE CUNNINGHAM:
What kinds of log furniture does your company manufacture and/or sell?
We primarily make and sell tree stump tables that range in size from 10"-40" in diameter x 14"-29" in height.
How much do your pieces of furniture cost?
The prices are competitive compared to other companies. Contact the company by e-mail for pricing information.
What are the most popular kinds of log furniture?
Tree stump tables
Briefly describe how you make a piece of log furniture.
We salvage a cut tree and cure the logs for a minimum of one and one-half to four years. Then we de-bark, level, sand smooth, and custom finish the logs with low v.o.c. and eco-friendly sealers. We then stain and wax it.
What specific kinds of wood does your company use to make log furniture?
We use all types of wood species.
Is there anything else you would like to share about your company?
The mission of Kate Cunningham Company is to create custom tree stump tables for the interior environment using organic, reclaimed materials. Product integrity and exceptional service to each client are our highest considerations. We service the high-end market of interior designers, architectural and design firms, which includes hospitality and high-end retail outlets.
How did you get into making log furniture?
I have a love for trees and a bent for craftsmanship.