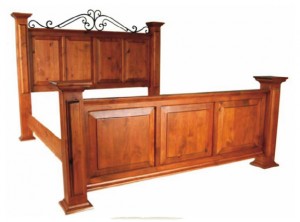 Southwest Country is a leading designer and manufacturer of country style furniture and décor. They sell all types of furniture for home and office use. Based in the Camarillo area of Thousand Oaks, California, the company is managed by Fred Fuchs. It first opened in 1986 and currently has two employees who work for Fuchs. Visit www.swcountry.com or www.cowboyindian.com for further information.
Q&A WITH FRED FUCHS:
What kinds of items does your company sell?
We sell most items of the western styles. We sell log furniture and make furniture out of Eucalyptus and juniper logs. Most of it is made of lodge pole and pine pole logs, it's easier to work with and you can mass-produce it more.
What kinds of wood does your company use?
We use alder wood and pine. Pine has nuts and has more rustic look.
How did you get into this business?
My business partner at the time owed me money, so I decided to go into business with him to get it back, even though I'm an engineer. He asked me to design a system for his company, so I became partners with him.
How much do your items typically cost?
Our prices are low and competitive. We charge $250 for a one-drawer nightstand, and for a three-drawer one we charge $350. A small desk goes for about $480. The prices obviously go up for larger items.
What are your most popular items?
Log beds are the most popular. A regular log bed is about $845.
Briefly describe how you make a piece of log furniture.
Log furniture is not easy to work with. It's not straight, and every piece has to be made individually. A newbie might need a diagram of what you want to make. We take a log and bend it and let it rest there until it becomes the shape we want. Then we use the lodge poles and certain methods to put it together. A log bed takes about a week to 10 days to make.
What kinds of items do you enjoy making most?
We like making lodge pole furniture. It's a specialty. It has to be one piece at a time. We also like to make lines of western distressed furniture from old barns, fences, and houses.
What kinds of crazy or oddball requests have you had for furniture items?
We've been involved with some of the Los Angeles Lakers players and have done "upscale" items for them. We have made much larger beds to accommodate them. We've also made chairs and tables for them that are much larger.