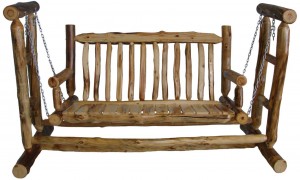 Rustic Log Furniture is a company that produces and sells log and rustic furniture items to consumers around the United States. Based in Alamosa, Colorado, it has two locations for pickup – one in Alamosa and the other in the city of Denver. Randy Jackson is the owner of the company and established it in 1996. It currently has about 50 employees. To learn more about Rustic Log Furniture, visit www.rusticlogfurniture.com.
Q&A WITH MARK SOWARDS, NATIONAL SALES MANAGER:
What kinds of log furniture does your company manufacture and/or sell?
We sell Aspen log furniture – everything you could think of. From bedrooms to living rooms to cabinets, we do it all.
How much do your pieces of furniture cost?
A queen size log bed costs about $700. A log dining table runs about $500, but the chairs are an extra $200 per each.
What are the most popular kinds of log furniture?
Bedroom furniture – beds, dressers, chests
Briefly describe how you make a piece of log furniture.
The wood is harvested dead-standing. Then the logs are hand peeled. We sand the logs down, cut and drill the holes in them, and assemble them together. We use a three-coat process – stain, sealer, and topper. We Build everything in batches. We can knock out a large retail order in about a week.
What specific kinds of wood does your company use to make log furniture?
Aspen logs
How did you get into making log furniture?
Randy Jackson, the owner of the company, started up the business in college. He built a swing for his mother and mother-in-law for Mother's Day. Then people asked if he would make them one, too. He started making swings and logs. We now have over 2,000 standard products.
What's the craziest custom request you've had for furniture?
We do lots of custom stuff and we've had all kinds of requests. We're actually trying to move away from it because it takes longer to do custom work.
What kinds of log furniture do you enjoy making most?
Beds and log rocking recliners