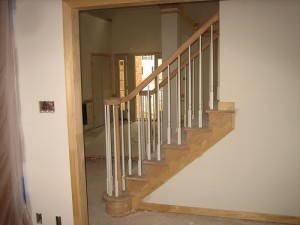 If you have a staircase or a smaller amount of steps in your home, they are probably quite noticeable.  If there is no railing or handrail on the steps, you might want to consider adding a rustic log railing to them. Log railings will stand out in any home. They provoke a log cabin feel, even if you don't actually reside in a log cabin.
According to Log-Furniture.ca, log railings contain spindles, mantels, and banisters. The logs used to make railings are usually hand-peeled using a drawknife. This is because most log railings do not contain the natural bark on them, unlike other pieces of furniture for which it is more common to leave the bark on. Other items that are typically used to craft log railings include expansion glue to help hold the logs together, heavy-duty log lag screws for even more support, a sanding device to help make the rails as smooth to the touch as possible, and clear polyurethane or linseed to improve the texture of the actual rails and to add some coloration to them.
In most cases, the mortise and tenon method is used to craft log railings. This method involves cutting the logs so that one log contains a mortise hole and another log contains a tenon that protrudes outward from the base of the log. The logs are then fit together cleanly and precisely, forming a 90-degree angle.
There are various types of railings that can be crafted for stairs, a dock, or any other area of a house that could use some extra support. One option is to go with a traditional straight staircase that is essentially straight but is obviously at an angle running alongside the stairs. Another option is to have a winding staircase. Although most winding staircases already have a railing on them since they are more tricky to maneuver than regular stairs, you could have an entire winding staircase installed in your home and then add the log railings to it. Finally, if you have a patio or dock that overlooks the water, how nice would it be to put up a log railing on it? A great option for a non-stairway handrail is the glass or wrought iron log handrail. LogArtistry.com describes these types of railings as ones that offer that cool rustic look but are also extremely durable because of the glass and wrought iron materials that are used to make them.
Remember to bookmark LogFurniture.com to find out everything you need to know about log furniture. If you're looking to purchase a log railing for your home or log cabin, there is a dealer near you, or you can find one online that will ship the preassembled materials to you for a simple manual installation of them.