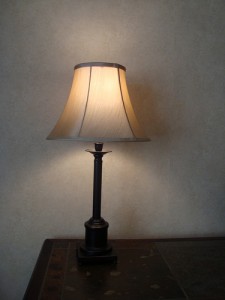 We all need lighting to be able to see what we are doing and where we are going. It might not come to mind initially, but there are actually a number of rustic log lighting products on the market to brighten your home or log cabin.
Log furniture and rustic home decor sites sell a variety of lighting options. These are some of the most popular ones:
Log table lamps – Illuminate a small area of a room with a log table lamp. These lamps are made with different kinds of wood, including cedar. They are made using various colors and styles, especially when it comes to lampshades. You can purchase these lamps that include shades made from logs. They come in different patterns, and some include rustic features and designs like plants and animals. Green and brown are popular lampshade colors for log lamps, but you can find companies that will manufacture custom lamps and lampshades for you. These kinds of lamps are perfect for reading and can sit on your bedside table, in the living room, or even in the dining room.
Log floor lamps – Wouldn't you love having a bright room that is lit by a log floor lamp? You can have just that. These floor lamps are generally made with pine but can be made with almost any type of wood. White pine logs are perfect for creating a bright floor lamp that is sure to add some cheer to any room in your home or log cabin. Most come with lampshades. The actual lamp poles are constructed using a log, and a larger log is used as the base of the lamp on which the pole stands.
Log wall lamps and sconces – If you're looking to add more light to a room and want to make sure the lights you put in area high enough, you could always invest in some log wall lamps or sconces. These lamps are usually handcrafted and include the original knots and gnarls that are a natural part of logs for a cool rustic look. Wall lamps and sconces can be attached to most walls with ease. They offer a clean look. Since there is no pole on wall lamps, they can be made in a variety of shapes and sizes. Cedar is the ideal type of wood to use for these lamps.
Ceiling lights – A rustic ceiling light can really light up a room – and in many ways. In addition to the actual light coming from it, a rustic ceiling light is a fantastic addition to a room that contains log furniture. When you look up and see one of these lights, you will immediately feel like you are living among nature. These lights can be connected to wall switches for convenience.
All rustic and log lighting requires certain kinds of light bulbs. Make sure you know which kinds of bulbs are required prior to making a purchase.
Remember to use LogFurniture.com for all of your log furniture information needs.