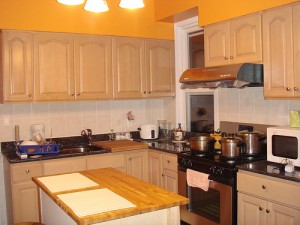 Your kitchen is where all the magic happens in your home. It's where ingredients come together to form delicious appetizers, entrees, desserts, and snack foods. Because we all like to eat, a kitchen is one of the most important rooms in any home.
According to TheLogFurnitureStore.com, the following items are the most common pieces of log furniture that are available for your kitchen:
Kitchen cabinets – Every kitchen requires some kind of cabinetry to store the appliances, utensils, and cookware that go along with any kitchen. You can get a variety of kitchen cabinets made with cedar and pine wood. There are lots of options on how your log cabinets can be designed and implemented into the layout of your kitchen. This includes wall cabinets that are placed against a wall, base cabinets that are placed beneath the counter, and sink base cabinets that fit underneath the sink. Log cabinets will give your kitchen a rustic feel that will enhance your cooking experience and spruce up a room in your house that could otherwise be a bit boring, especially if you have guests over who go into your kitchen.
Kitchen island – A kitchen island is a structure that is not connected to the regular counter or bar in a kitchen. It typically sits alone in the center of the kitchen and includes a smooth top surface along with drawers or cabinets below for storage. Islands made of oak are commonly sold if you are looking for a log kitchen island. In addition to storage and for overflow purposes, these islands are handy to have in your kitchen to use as a buffet or serving area.
Kitchen bar – Gather your family and friends at your kitchen bar. Sit in sturdy chairs made of various types of wood and enjoy a drink, a snack, or even a meal sitting at the bar. You can accompany the bar with stools or chairs with backs. Many bars are also equipped with drawers and cabinets on the side opposite of where the chairs are placed to store your favorite beverages and goodies.
Paper towel holders – You may not even think of having a special paper towel holder to hold your paper towels on, but there are actually some sleek holders made of log available. These include ones made with cedar or hickory. They are a nice addition to any rustic kitchen.
Be sure to browse LogFurniture.com for all of the latest news and information on log furniture. Coming soon will be a complete database full of information on various log furniture stores and vendors around the country.