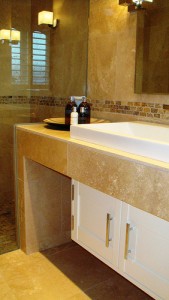 Bathrooms are designed with some of the most basic things – a toilet, a sink, and perhaps a shower or a bathtub. Bathrooms also tend to be viewed as the rooms in a home that just aren't that important since people don't spend too much time in them. But so much more can be added to your bathroom to make it more comfortable and to give it a rustic look that your guests will be sure to like.
According to LogFurnitureStore.com, the following log furniture items are made using rustic log wood materials:
Hamper – Store all of your used towels, clothing, and other items to toss in the laundry later on with a log hamper. These hampers are very durable and can be made to hold a large amount of items because of how wide and deep they are made. Of course you can also use a hamper to store clean towels and other items in a hamper.
Medicine cabinets – Cabinets are commonly found in the kitchen. But another great place for convenient storage with cabinets is in the bathroom. With log wood medicine cabinets, you can store your medications and other bathroom supplies right above your head in these rustic cabinets. Many come with various handles depending on how small or large you want them to be. Smaller handles will decrease the width of the cabinets so that you won't be bumping into them.
Vanity linen cabinets – If your bathroom is too small to store a large hamper in it, you can always go with log vanity linen cabinets. These cabinets are generally made to stand up and come in a variety of sizes. You can also get one that has a stand-up set of cabinets with a hamper attached to either the left or the right that can fit right under your sink. These cabinets are great for utilizing the most amount of space so that you can fit everything you need in your bathroom without it being too cramped.
Mirror frames – You can really spruce up your bathroom by adding some cool log wood frames to your bathroom mirrors. By looking at a mirror with one of these frames around it, you can get a nice picturesque glance at yourself while you get ready in the morning or while you freshen up to get out on the town in the evening. Frames also provide an outline for your mirrors and will make them easier to clean since you'll be able to easily spot anything on them with an enhanced frame.
Toilet tank topper – It might not sound like the most appealing or necessary item to get, but a toilet tank topper will cover up the tank on the back of your toilet to give your bathroom a much more pleasing and rustic look – and to hide the tank that is found in all bathrooms but doesn't have to be seen when you use one of these toppers..
Use LogFurniture.com as your premier source for info on all types of log furniture and where to purchase it either online or locally in your area.