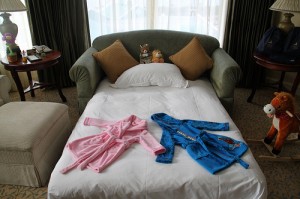 If you are the parent of a baby or a young child, there are various types of log furniture that you can get for them. According to Log Furniture Place, the following pieces of log furniture are perfect for complementing kids' rooms:
Table set – Do you ever have company over and want to have the kids sit at their own table so they can each other while you can enjoy the adults who are there? A log table set is an excellent option for this. This small log tables come in a variety of designs with how ever many chairs you need to go along with them. The legs of these tables are made with short sturdy logs, while the actual table is comprised of several pieces of wood molded together. Your kids will love eating every meal at one of these tables and will make them feel like they're eating outside in the woods.
Rocking chair – Kids always like to rock back and forth in rocking chairs when they get the chance. So why not get them an actual rocking chair? Most people assume these kinds of chairs are for grandparents, but there are some cool log rocking chairs for kids available if you're interested. Many rocking chairs are made from pine wood and provide a sturdy structure that eliminates the possibility of someone tipping the chair over. These handcrafted chairs will complement any home or log cabin getaway in the woods and are perfect for a living room or for your kid's bedroom.
Baby crib – If you have a little one at home, investing in a log baby crib is a great idea. Although style and design are high priorities when it comes to selecting any piece of log furniture, you will have the peace of mind that safety is the #1 priority taken into account when woodworkers create these cribs. That's because the safety of a baby is more important than ever. These cribs are made with high wooden logs on all four sides to keep your little one safe and secure. They can be easily outfitted with any kind of bedding or blankets that you like. Many cribs are made out of cedar wood.
High chair – Give your young child the opportunity to sit in style with the rest of the family by getting a log high chair. These high chairs are constructed in most cases using cedar and hickory. They are made with security in mind, and there is an option to get a seatbelt to strap your baby in for maximum safety. Some high chairs look boring and generic, so why not invest in a nice log high chair? Not only will your child love it, but also it will fit right in with other log furniture you may have.
Remember that LogFurniture.com is a great resource for all kinds of information about various pieces of log furniture for every room in your home or cabin in the woods.