Blue Ridge Log Works is a log furniture company that specializes in building handcrafted lodge style furniture and accessories. Managed by Bill House, the company has been in existence for 21 years and currently has 8 employees. It is based in Fort Collins, Colorado, For more information on Blue Ridge Log Works, check out www.blueridgelogfurniture.com.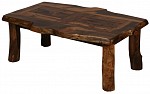 Q&A WITH BILL HOUSE:
What kinds of log furniture items does your company sell?
Aspen log furniture and reclaimed pine timber furniture
How much do your items typically cost?
They range from $110 for a table lamp to $2,790 for a large buffet and hutch and everywhere in between.
What are the most popular kinds of furniture that you sell?
Bedroom furniture is the most popular.
Briefly describe how you make a piece of log furniture.
It's a labor-intensive process. All of our furniture is made to order. We make each piece one at a time.
What types of wood do you use to make your furniture?
We mainly use the aspen wood species and some pine.
How did you get into this business?
I had experience in the log home building industry prior to starting this company.
Have you had any unique or oddball requests for furniture?
Someone wanted custom log handrails with extreme character joining two homes with a bridge.
What kinds of log furniture do you enjoy making most?
The beds are the best to make.