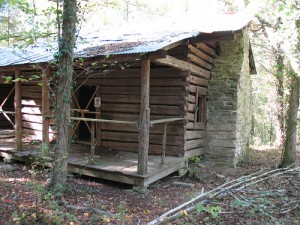 Have you ever thought about building your own log cabin? Even though making some kinds of log furniture might seem daunting, don't let the size of a log cabin seem even more daunting to you.
How to Build and Furnish a Log Cabin: The Easy, Natural Way Using Only Hand Tools and the Woods Around You is considered the only real step-by-step guide on how to construct log cabins and log furniture. It offers great advice on how to build these items and structures by only using hand tools and items from nature to create pioneer-style homes and furnishings for them. In today's era of power and the electronic and digital society in which we live, there are still opportunities to get outside and do things like our ancestors did generations ago.
The first part of the book describes how to build three different types of log cabins. These include a one-room log cabin, a one-room with lead-to log cabin, and a three-room log cabin. There are clear instructions on everything from building the cabin from the base up to installing various fixtures inside the cabin like a heating unit and lighting.
The second part of the book discusses log furniture. Benches, chairs, tables, beds, and even candlesticks are just a few of the many items discussed in this section. There is a lot of description and instruction on how to make each of these items. Even if you think it's too difficult to get started, you will be convinced by the explanations that anyone can make log furniture if they put their heart to it.
Along with detailed text explanations and instructions, the book contains a wide range of helpful drawings to help steer you in the right direction. For all of the visual learners out there, you will be in good hands with this book.
The book was written by W. Ben Hunt. It was published by Collier Books in November of 1974. Even though the book is now a little dated, the techniques outlined in it remain tried-and-true methods, even today. Hunt is a self-taught expert on various crafts and manufacturing methods of the Woodland Indians and the Plains. He was born in the Midwest in Wisconsin in 1888. He spent his life teaching about nature and the outdoors, doing artwork, and crafting beautiful log cabins and log furniture. He has written a number of books on crafting log cabins and furniture. Perhaps his most recognized work is called Macmillan's The Complete How-to Book of Indiancraft.
In addition to using books as resources for information on log cabins and log furniture, use LogFurniture.com for more guidance on these topics.