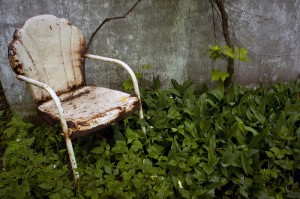 Books are a terrific resource to learn more about log and rustic furniture along with the various techniques that you can use yourself to make your own furniture. Whether you live in a country home, a log cabin, or are just looking to add some natural flair to your apartment or even your office, it's easy to do so with simple instructions and for a relatively small price for materials.
Rustic Furniture Basics is a fantastic 144-page book that outlines exactly what the title suggests – the basics of what rustic furniture is as well as how to actually make it on your own.
Originally published in October 2009 by Taunton Press, this step-by-step book teaches readers how to utilize materials that are collected from nature or otherwise recycled to create fantastic unique pieces of furniture. The book clearly explains various woodworking techniques from start to finish in basic terms. These techniques include cutting round mortises and tenons in logs, making webbed seats for chairs, weaving twigs, and using joinery methods other than the mortise and tenon technique. Some of the furniture pieces that are outlined in this book on how to make them include chairs, tables, chests, and other useful items that fit perfectly into any rustic home. In addition to woodworking projects, the book also explores the use of non-wood materials that are used to make furniture and other items as well.
Along with descriptive text, the book contains lots of photos and diagrams for readers of all skill levels. The diagrams are simple to follow and incorporate arrows and numbers that explain the various shapes and sizes of each piece of furniture that is described. Regardless of your woodworking background, you'll be able to grasp the different concepts in this book with limited outside knowledge.
This book also points out some of the benefits of making your own log furniture. In most instances, rustic furniture is considered to be environmentally friendly or "green." This is because furniture of this sort usually incorporates reclaimed materials like logs or other pieces of wood to be used during the manufacturing process. Recycled materials may be used as well.
The book was authored by Doug Stowe, a professional woodworker who has written a number of other books and articles for various magazines related to log furniture and woodworking. His other books include Tauntons Complete Illustrated Guide to Box Making and Box Making Bonanza.
In addition to using this book and other books on log furniture as resources for information, be sure to bookmark LogFurniture.com as well for all of your online information needs if you are thinking of investing in some log furniture or if you want to make your own!