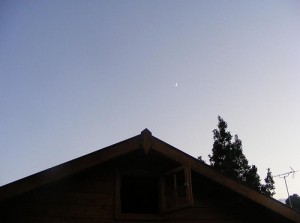 Have you ever dreamt about a life away from the stresses of a fast-paced metropolitan? Living in a log cabin or even surrounding yourself with rustic furniture can go from being a dream to a true reality. There is a book that explains how you can make this happen and where to turn for advice on rustic retreats and furnishings.
Cabin Fever: Rustic Style Comes Home is a terrific hardcover book that explains where the most popular rustic and log cabins are located throughout the United States. This includes various retreats from New York to the "wild, wild West" of Montana and Wyoming. The book also explores the different kinds of architecture that were popular years ago and are popular today and how this architecture speaks to us. If you've ever thought about renting a log cabin or actually moving into one permanently to get away from the hustle-and-bustle of urban life in a major city, this book is for you. This 208-page text, which was published by Simon & Schuster in September 1998, discusses the American dream of living in a log cabin and the simplicity of life that goes along with it.
One of the major themes throughout this book is that life can be much less stressful and much more enjoyable when living in a manmade log cabin or lodge. This includes having log furniture as well. There is nothing more relaxing than spending time in a small residence that has been made with naturally occurring materials, such as rustic logs. From dazzling photographs of outside views of cabins to the inside furnishings that make them true natural pieces of architecture, you can learn about the past and present types of log furniture manufacturing as well as where you can find these items for purchase or for rent in a lodge setting. An outdoor-style life is very affordable if you have the desire for it, and this is the main message of this text.
The book was written by Rachel Carley, who has authored several books on log cabins and nature. Her other titles include The Backyard Book: Ideas and Resources for Outdoor Living (1988), Wilderness A to Z: An Essential Guide to the Great Outdoors (Outdoor and Nature) (2001), and A History As Told by the New Milford Historical Society's Portraits and Paintings (2000).
Books are a tremendous resource for information and inspiration about rustic furniture. But you should also use LogFurniture.com as a comprehensive online resource if you are exploring the possibility of adding log furniture to your home or moving into a log cabin to get away from it all.