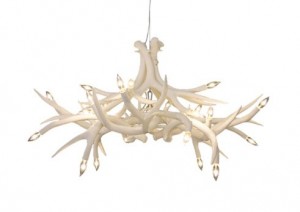 Log furniture is a wonderful addition to any log cabin or rustic home. But don't forget about another type of furniture that fits in perfectly with log furniture – antler furniture.
Antler furniture and décor are made from antlers and horns that come directly from cattle, moose, and elk. They are collected when these animals shed their antlers. According to AntlerFurniture.net, the most common kinds of antlers used to manufacture antler items are red stag antlers, fallow deer antlers, and roe deer antlers.
The following pieces of furniture are the most popular kinds of antler furniture and décor:
Antler chairs – Enjoy some nice conversation with family and friends when you sit in a cool-looking rustic antler chair. These chairs are designed for durability and uniqueness. In most cases, bolts are used to hold the antlers together and in place. You can customize your chair for comfort and style as well. Chairs are available for tables or in larger styles as more of a sofa or loveseat.
Antler tables – Imagine how neat it would be to enjoy a feast with company on an antler table! These sturdy antler tables contain tabletops made of wood, usually oak or walnut. They come in every size imaginable based on the dimensions you desire. From dining tables to end tables or coffee tables, you can outfit your rustic residence with a sleek antler table for any room.
Antler Chandeliers – Light up your home with a beautiful deer antler chandelier. You will be in awe of these amazing light fixtures that can hang from any ceiling. The wires and inner-workings of these chandeliers are designed so that they aren't visible. Many chandeliers are equipped with incredible glass etchings that can be handcrafted and made with any style you have in mind. They come in various sizes with different amounts of lights or spaces for candles. An antler chandelier will make you feel like you're literally living among nature.
Antler cutlery – Eat your food in style by getting some antler cutlery! Forks, knives, spoons, and other utensils can be made with antler carvings that serve as handles. You can get a large or small amount of cutlery depending on the size of your family. Most of these utensils are also made with stainless steel and can easily cut any food items you plan to serve.
Be sure to use LogFurniture.com for all of your log and rustic furniture information. Antler furniture goes right along with all types of log furniture, so consider every option available to you before making a decision on a purchase.