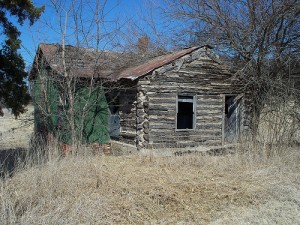 Log cabins are places of residence that are built entirely out of logs. In general, they contain an unsophisticated design in which logs are placed on top of one another to form the base and overall structure of the building's walls.
From an historical perspective, most people think of log cabins as simple structures that are primarily one story and fairly small. Log cabins were primarily designed in a way that used minimal finish on the actual logs as they looked entirely natural. Round logs were used rather than the more modern handcrafted logs that are far more common today. Log cabins were one of the first generation of what we now consider to be a house. The main reason for this is because they were quite easy and quick to assemble, particularly when people needed a shelter from the cold weather outside.
The most common design of traditional log cabins involves laying logs horizontally. They are then interlocked together on the ends of the logs with notches, much like the mortise and tenon method of manufacturing log furniture. A more uncommon method that is not as structurally sound involves using nails to hold the logs together. Although this method may seem a little easier, cabins made with it tended to fall apart in a shorter amount of time and were much less durable.
The two main types of roofs for log cabins are purlin roofs and rafter roofs. A purlin roof is constructed by laying logs horizontally and notching them together. Rafter roofs are made with logs that are progressively shortened to form a triangular shape at each endpoint of the roof.
One of the most famous log cabins was the one-room cabin in which President Abraham Lincoln was born. Lincoln was born in Hodgenville, Kentucky and later moved to a log cabin in Indiana. The Lincoln Log Cabin Historic Site in Charleston, Illinois is a national historic park that houses a replica of the log cabin originally constructed by Thomas Lincoln, the father of Abe.
Log cabins are still in use in various parts of the U.S. Although modern construction has allowed for these cabins to be built with more stability by using other construction materials, many cabins that stand today are primarily made up of regular logs. It's become popular for vacationers to rent out log cabins for a period of time in the mountains, although most are fully equipped with modern amenities unlike their historic predecessors.
Remember to use LogFurniture.com as your premier resource for information about log furniture and rustic log cabins. Most log cabins logically contain various pieces of log furniture, especially in these cabins in the Midwest or western U.S.