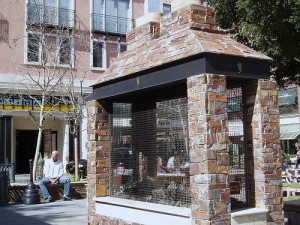 Do you have a fireplace in your home or log cabin but just haven't used it much or maintained it? You can upgrade your fireplace and mantel by investing in some inexpensive items to enjoy the warmth and country feel of your fireplace.
According to TheLogFurnitureStore.com, the following items are some of the most popular accessories to add to or upgrade your fireplace and make the experience of using it much more enjoyable:
Firewood baskets – These baskets come in all kinds of colors and sizes. Hold your logs and other smaller pieces of firewood in a sleek basket made of steel, pinecones, or even logs. Many baskets can hold up to 8 more logs depending on the size of them. These baskets can be placed right beside or on top of your fireplace for convenience. Not only do they hold logs securely, but also you can get certain kinds that add a cool rustic look to your mantel and fireplace.
Firewood racks – Add a sturdy log firewood rack to your living room. Many racks are made of cedar, which is an extremely durable wood. They can be designed to hold just a few or several logs, and many can be custom-made with the designs and colors of your choice. These racks can stand several feet tall and can be placed on the floor or up a bit higher on a shelf or table.
Fireplace screens – Protect yourself and your guests with a screen for your fireplace. These screens are made to withstand extreme heat and flames so that you can enjoy sitting by the fire with no worries in the world. Screens are manufactured with thick metal such as steel. You can get all kinds of designs on your screens to offer a more natural vibe, including animals like bears, elk, and moose.
Fireplace tools – There are a variety of tools that you can use to properly maintain your fireplace – and to keep the flames burning on those cold winter nights in the woods. The three most common tools are a poker to arrange the logs as they burn, a shovel, and a brush to clean the fireplace after you've had a fire in it. You can get lots of different types of specially designed tools. In fact, some tools are made with deer antlers as the handles for them. Tools are made of various types of metal for maximum durability.
Bookmark LogFurniture.com to find more information on log furniture accessories and fireplaces. If you already own pieces of log furniture, why not complement this furniture by making your fireplace a centerpiece of your home? The two are a perfect combination.